tikport for port agents 100% in the cloud
One environment for all your tools, with tikport you get a 360º vision of all your task, clients and port calls with a simple click.
Tikport is a software for port agents 100% online, without attachments without servers, without maintenance, always available wherever you are.
Our program is developed and designed by and for port agents.
It includes complete functionalities for the integral management of a port agency. Such as:
Add and manage port calls without limit
CRM to manage your own clients
Take control over spare parts and logistics
Automatic documents and reports
Automatic task and alerts
Software designed to save
Our program is developed to save time and tedious works, like doing reports, task managing, crewchanges..
We guarantee that our program will increase your productivity.
With a few clicks, handle port calls, information, statistics, crewchanges, logistic, customs and a lot of automatic features.
Main view (Whiteboard / Dashboard)

Vessel database (linked to a commercial database

Client database incl. CRM (Customer Relationship Management

Client-oriented Alert and Follow up function

Proforma calculation / Expenses / Final DA

SOF / Bill of Lading / Manifest

User-defined documents freely selectable (Pre-Arrival, etc.)

Automated task manager

Logistic & spares module

Services / Crew module

Data export/import by remote data transmission for integration with external systems (accounting system, port authority, customers, etc)

Generate reports and statistics

Integrate your clients in a personal customers portal

Increase your statistics with a real workflow dashboard
---
0
+ Productivity
---
Increase your productivity
0
Faster
---
Be faster with less work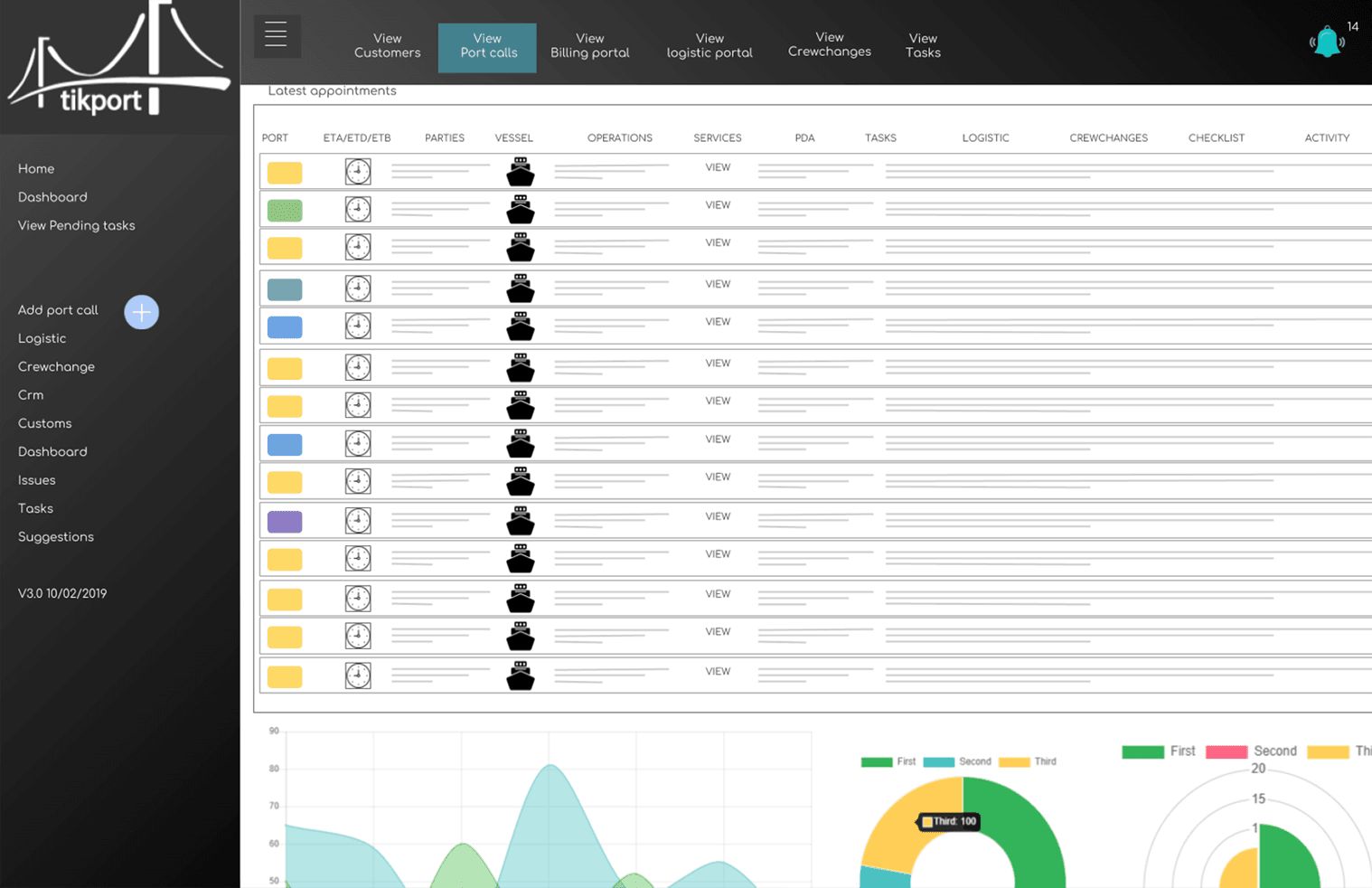 Accesible
from
anywhere
anytime
unlimited
Choose your preferred pricing pack
---
---
Pay as you GO!
---
Pay only for each port.
Call without restrictions.
---
---
---
Prepaid
---
Take control over your
yearly prevision
---
---
---
Licensing
---
Absolute control acquiring the complete license.
---
---
Tailored and customized software
Our software is configured and adapted on each installation, so every client has their own program tailored made
We take security very seriously, which is why our system is protected by several layers of firewalls and complies with ISO 27001

Tca-tik
A dynamic company with a reputation for outstanding creative thinking
Tikport is a software developed by Tcatik company, with a large experience in cibersecurity and IT solutions.
REQUEST YOUR FREE 30 DAYS DEMO TODAY